AMINO TRIM
Amino Acids & Fat Loss
---
Free shipping on orders over $75
100% 30 Day Money Back Guarantee
In stock, ready to ship

Inventory on the way
There are many different types of amino acids in the marketplace so what makes our different? Amino Trim is not just an essential amino acid powder but it includes scientifically studied ingredients shown to boost hydration and thermogenesis. The thermogenesis matrix contains L-Carnitine, Paradoxine®, and ProGBB®. This unique combination of ingredients help support a healthy metabolism and thermogenesis. Then we added in key electrolytes and L-Taurine to help improve hydration. Three amazing benefits all rolled up into one product!
Each serving of Amino Trim features an efficacious dosage of 7.5 grams of essential amino acids. We have specifically chosen each EAA for its ability to support recovery and protein synthesis. The ratio of branched chain amino acids that we chose is the 2:1:1 ratio, which is the most clinically studied ratio of BCAAs for recovery and performance.
Amino Trim is stimulant free so can be consumed anytime of the day. The thermogenic components do heat up the body so if you consume pre or intra workout you may notice some additional sweating. That is just the thermogenic matrix hard at work.
Sample packets are available so if you'd like to try before you buy then please contact us!
Active Ingredients:
L-Leucine: Powerhouse branched chain amino acid that helps boost mTOR activation allowing for increased protein synthesis and recovery.
Taurine: Helps support the central nervous system as well as helps maintain proper hydration and electrolyte balance in your cells.
L-Carnitine L-Tartrate: Helps reduce fatigue during activity and supports a healthy metabolism. Benefits can be accelerated when used in conjunction with ProGBB®.
Paradoxine®: Clinically studied grains of paradise that has been shown to boost thermogenesis and aid in weight management.
Mix one (1) scoop of AMINO TRIM with 16 oz. of water during exercise, on non-training days, or whenever you need an extra boost.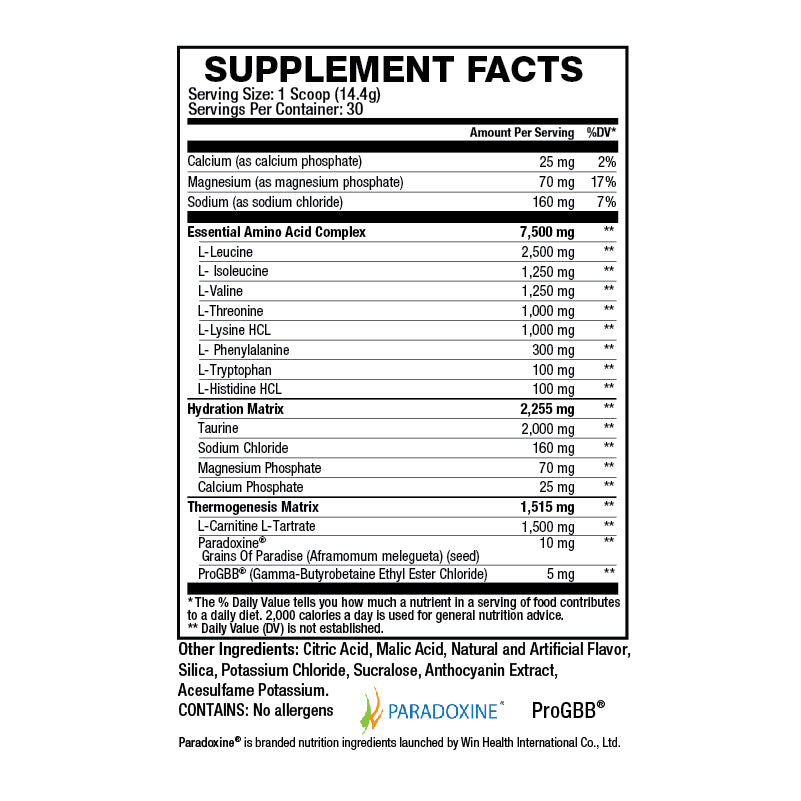 At Sweat Ethic it is our goal that you have the best experience possible when shopping with us. We offer a 100% 30-day money back guarantee on all our products. If for any reason you don't enjoy the product, simply Contact Us and we will initiate a refund right away!