VASO'D
Vasodilator
---
Free shipping on orders over $75
100% 30 Day Money Back Guarantee
In stock, ready to ship

Inventory on the way
When you are looking to get the most out of each workout it is essential to focus on improving blood flow. Greater blood flow leads to increased nutrients uptake and oxygen delivery to your muscles. That is why we created VASO'D! A non-stimulant vasodilator that utilizes clinically studied ingredients that have been proven to relax blood vessels resulting in improved blood flow and better workouts!
Why are relaxed blood vessels beneficial? When the vessels are relaxed more blood is able to travel through the veins. The improved blood flow will enable you to push further during the grueling sets at the gym, endurance training, and athletic events.
During strenuous activities our bodies produce lactic acid. When lactic acid begins to buildup in the body you'll start to experience muscle fatigue. That is why we included CarnoSyn Beta-Alanine in VASO'D, which has been clinically studied to delay lactic acid buildup in the muscles allowing you to push yourself further!
Active Ingredients:
S7™: Is a concentrated low dose blend of 7 plant-based ingredients that have been clinically shown to boost nitric oxide levels by 230% which leads to increase blood flow. These benefits improve the flow of oxygen and nutrients to the muscles during workouts.
CarnoSyn® Beta-Alanine: One of the most widely researched patented ingredients on the market with over 55 scientific studies. Beta-alanine buffers lactic acid buildup in the muscles which allows you to push further during your workout. Increase endurance and overall performance!
Capros® Indian Gooseberry: Backed by 10 human clinical studies, Capros is a super antioxidant which helps protect the body from oxidative stress and free radicals in the body. Additionally, Capros increases blood flow leading to faster recovery and better pumps.
Take three (3) tablets one to two times daily with 8-12oz of water. Consume 15-30 minutes before activity.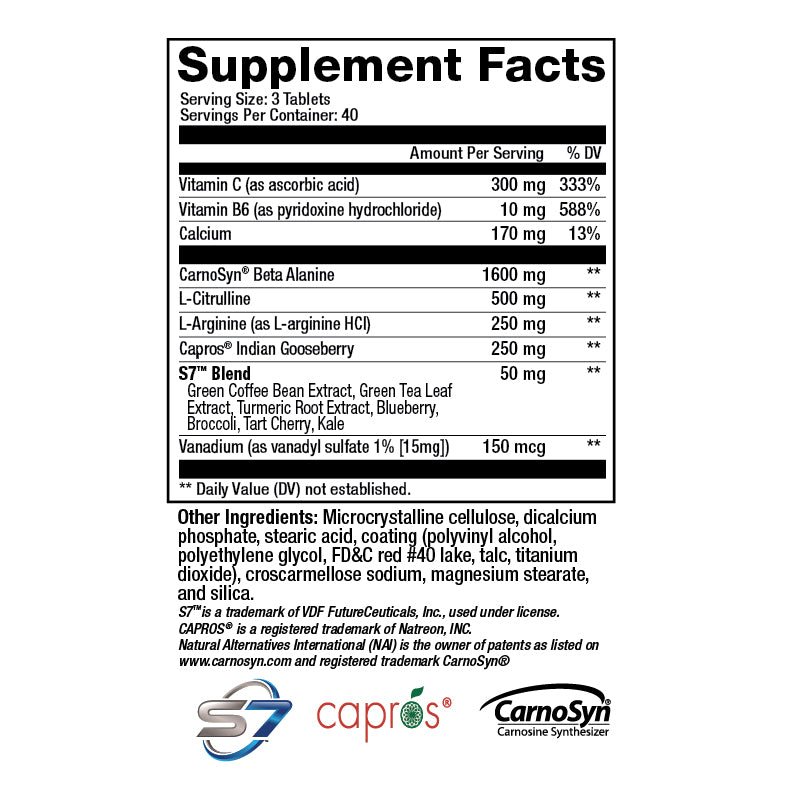 At Sweat Ethic it is our goal that you have the best experience possible when shopping with us. We offer a 100% 30-day money back guarantee on all our products. If for any reason you don't enjoy the product, simply Contact Us and we will initiate a refund right away!