VICTRESS
Energizing Hormone Support
---
Free shipping on orders over $75
100% 30 Day Money Back Guarantee
In stock, ready to ship

Inventory on the way
Victress is a natural approach to help balance women's hormones and improve overall health. Formulated specifically for women who are feeling less energy and drive than they use too. Utilizing well-studied herbal ingredients such as KSM66® Ashwagandha, Biotin, Folic Acid, DIM, and many others. Victress will help you get your drive and glow back!
ACTIVE INGREDIENTS:
KSM 66® Ashwagandha: Most clinically studied ashwagandha in the marketplace. Has been shown to help reduce stress, promote strength, increase cognitive function, and support healthy hormone levels.
Diindolylmethane (DIM): Ingredient found commonly in some green vegetables such as broccoli or kale. DIM is widely used to support a healthy hormone balance.
Biotin: Helps improve skin hydration and smoothness. Also has been shown to help support healthy nails.
Folic Acid: Essential vitamin for women's prenatal health. Also helps support proper nerve function.  
Vitamin D3: Key vitamin that helps women absorb calcium more efficiently to assist in improving bone health.
Cayenne pepper Fruit Extract: The active ingredient in cayenne pepper is capsaicin, a compound which has been studied for its ability to support metabolism levels in the body.
Dandelion Root Extract: Natural herb that is used to help reduce water weight in the body.
Take two (2) pills with breakfast & 8oz cold water. Take one (1) pill with lunch & 8oz cold water. Do not consume more then four (3) capsules in a 24-hour period.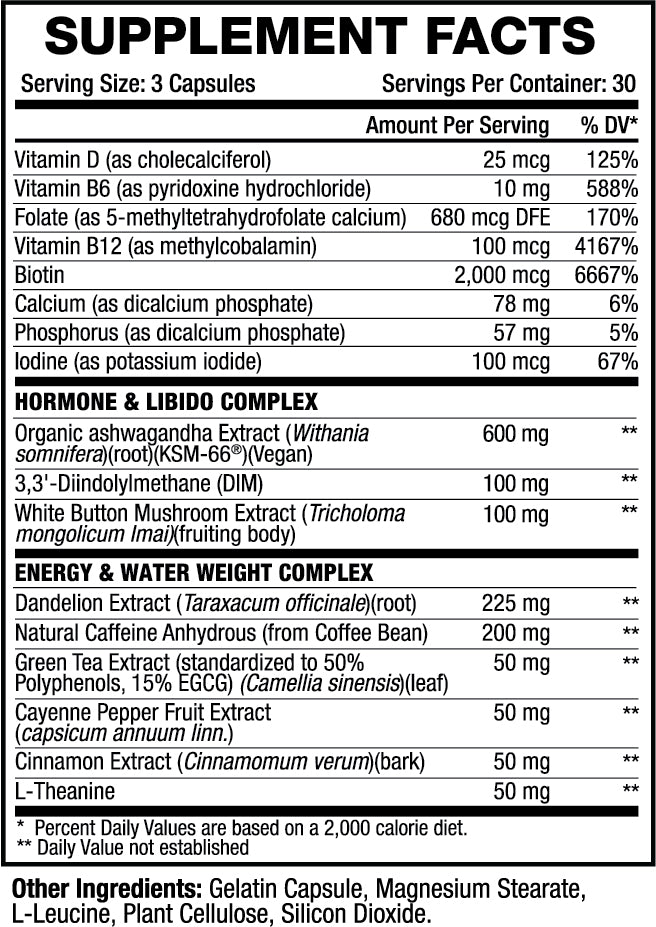 At Sweat Ethic it is our goal that you have the best experience possible when shopping with us. We offer a 100% 30-day money back guarantee on all our products. If for any reason you don't enjoy the product, simply Contact Us and we will initiate a refund right away!