VITA GREENS
Greens Superfood Powder
---
Free shipping on orders over $75
100% 30 Day Money Back Guarantee
In stock, ready to ship

Inventory on the way
Are you taking your vitamins and eating your vegetables? Let's be honest…most of us are not getting enough vegetables and certainly aren't getting all the daily vitamins from food alone. This can cause problems with our immune system, recovery, and natural energy levels. That is why we created VITA GREENS! Each scoop contains a full multivitamin, greens, reds, prebiotic fibers, digestive enzymes, and an industry leading probiotic. Why take multiple products when you can just take one?
Did you know that your gut plays a vital role in immune health? The gut helps regulate your immune systems homeostasis. A healthy gut helps ensure your immune system remains in balance. That is why we chose the industry leading probiotic for immune health Bacillus Subtilis. This spore forming probiotic survives gut acid, unlike many probiotics on the market, and has been studied for its ability to support immune system. 
Along with Bacillus Subtilis we added in key digestive enzymes and prebiotic fibers to ensure the food you consume daily is easily broken down allowing you to utilize calories more effectively and efficiently. Also, our favorite part about improving digestion…no afternoon or morning bloating.
Who knew your gut was so powerful?
How does VITA GREENS taste you may ask? VITA GREENS is naturally flavored, contains zero artificial colors, and is sweetened with stevia. We spent months perfecting the flavor profile of this product and we are so confident you will love the flavor that we offer a 100% money back guarantee no questions asked.
Whether you are a gym addict, weekend warrior, or just someone looking to live healthier…everyone can benefit from the power of VITA GREENS.
Mix one (1) scoop with 6-8 fl oz. of cold water or juice and shake well. For an added boost, mix one (1) scoop of VITA GREENS with one (1) scoop of FYRE'D UP in 16-20 fl oz. of water.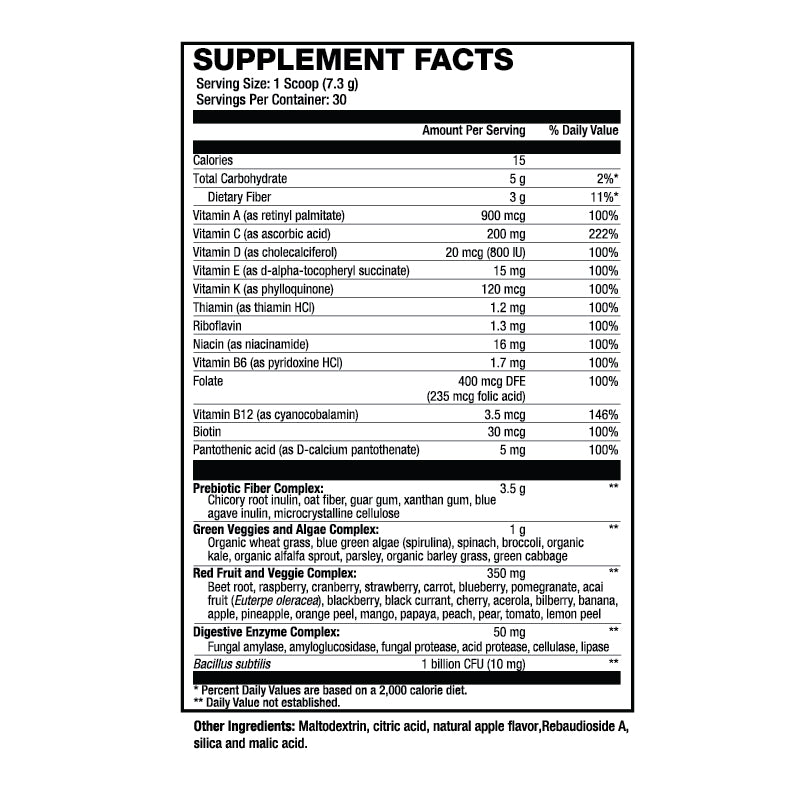 At Sweat Ethic it is our goal that you have the best experience possible when shopping with us. We offer a 100% 30-day money back guarantee on all our products. If for any reason you don't enjoy the product, simply Contact Us and we will initiate a refund right away!