WHEY'D- Sample Packet
Whey Protein Powder
---
Free shipping on orders over $75
100% 30 Day Money Back Guarantee
In stock, ready to ship

Inventory on the way
WHEY'D is a fully transparent blend of the three highest quality whey proteins on the market. We utilize the industry's best protein sources and flavor systems resulting in the perfect combination of mixability, texture, and flavor. We also fully disclose the exact amounts of each whey protein in the product.  
Have you had digestion issues with protein powder before? Many protein powders have high levels of lactose, that is why we chose specific whey proteins that are low in lactose. We also have natural digestive enzymes in WHEY'D such as Lactase, which helps our body breakdown lactose. If your body does not produce enough lactase, then you will have difficulties processing lactose which is why other protein powders may have caused you discomfort. 
Why choose a protein blend? Protein blends are great for those who have constant cravings as the protein releases steadily over a longer period allowing you to stay full longer. It is also great for performance and recovery as multistage release proteins provide your muscles with nutrition over an extended duration.
An essential element to a delicious protein is texture. A quick way to compare good quality protein against low quality protein is mixability. WHEY'D only requires a few quick shakes with your favorite liquid and then you are ready to enjoy some rich creamy delicious protein!
One of the greatest parts about WHEY'D is how versatile it is. You can put a few scoops in your favorite pancake mix, add it to your favorite yogurt for a nighttime snack, or consume post workout to feed your muscles. The options are endless!
It is time to make the switch to WHEY'D…your body will thank you!
3 PHASE PROTEIN MATRIX
Whey Protein Concentrate: The most widely tested and studied whey protein. WPC digests in 2 to 4 hours after consumption. Ideal for athletes as the protein releases steadily for optimal performance benefits.
Whey Protein Isolate: The fastest digesting protein on the market with extremely low lactose. Digestion window is 1 to 2 hours after consumption.
Whey Protein Hydrolysate: Has the fastest rate of bioavailability out of all powdered proteins. Begins digestion rapidly upon consumption.
DIGESTIVE ENZYMES
Lactase: Enzyme that helps break down milk sugar (lactose). If your body does not product enough lactase, then you often have issues digesting lactose.
Lipase: Enzyme that helps break down the fats found in food.
Protease: Enzyme that helps break down protein found in food.
FLAVORING
We have spent extensive time developing these flavors to give you the perfect balance of rich flavor alongside a smooth creamy texture. No expenses were spared with our flavors, and we are confident you will love it! So confident we offer a 100% satisfaction guarantee to our customers!
VALUE
Each scoop of WHEY'D contains 25g of high-quality protein, 0g of added sugar, and less than 4g of total carbs. Each jar contains 25 total servings. 
Mix one (1) packet with 6-8oz of water or milk post workout or anytime you require a high protein shake.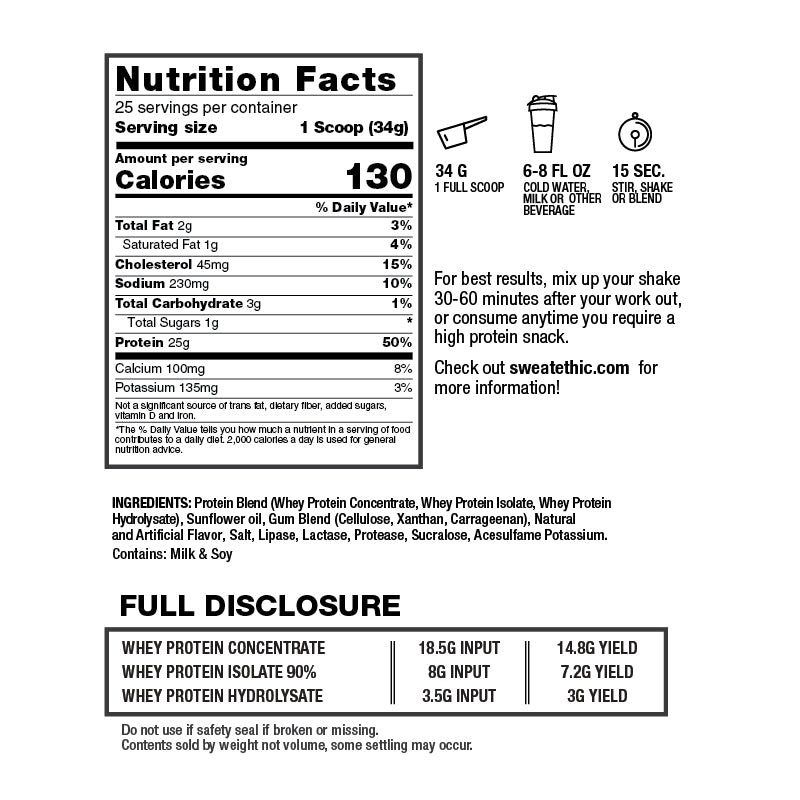 At Sweat Ethic it is our goal that you have the best experience possible when shopping with us. We offer a 100% 30-day money back guarantee on all our products. If for any reason you don't enjoy the product, simply Contact Us and we will initiate a refund right away!