RESTART 7 DAY
Whole Body Detox
---
Free shipping on orders over $75
100% 30 Day Money Back Guarantee
In stock, ready to ship

Inventory on the way
RESTART is a gentle 7-day whole body supplement that utilizes herbal extracts to help support natural body function. Our bodies undergo constant stress and sometimes you need to press the RESTART button. RESTART 7 DAY will help eliminate toxin buildup in the body and get your digestion and adreno glands back in check.
ACTIVE INGREDIENTS:
• Cascara Sagrada Bark: A herbal extract that works as a light laxative to help our body process some of the backed-up food that may be in our intestines.

• Burdock Root: A powerful antioxidant herb that helps improve liver function as well as reduce any bloating that may be occurring around the liver.

• Dandelion Root: Known widely for its ability to help reduce water retention but also possesses great benefits to calm the stomach by supporting healthy gut flora.

• Ginger Root: One of the most widely used herbs that has been shown to help your body mitigate cortisol build up while modulating adrenal function. This will help reduce your caffeine tolerance back to normal levels.
Take six (6) capsules daily. To optimize results: Reduce or eliminate consumption of caffeine, alcohol, and processed foods during these seven days. Consume at minimum 100 oz. of water per day during cleanse.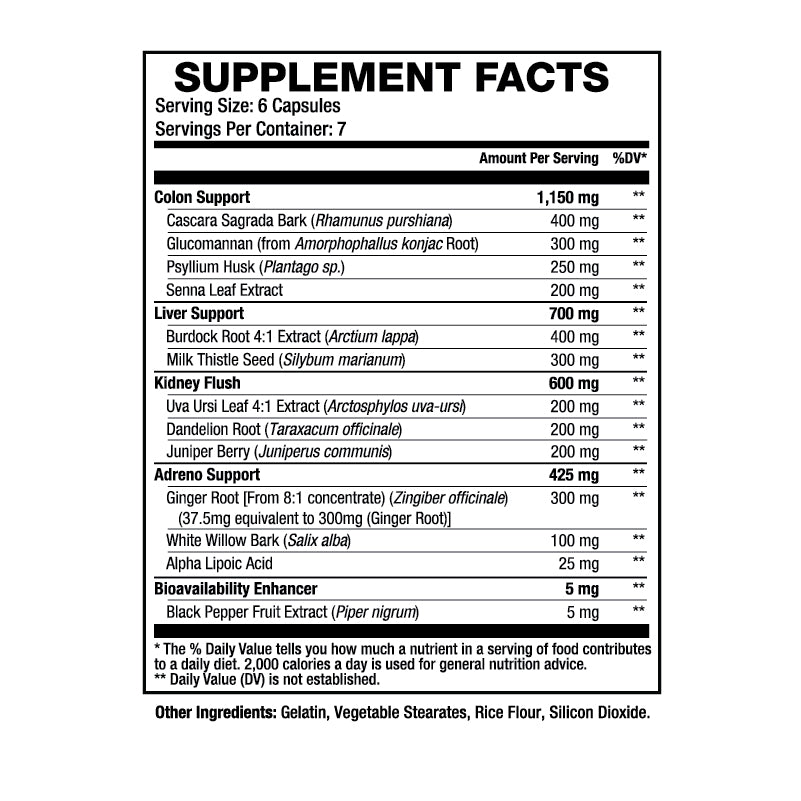 At Sweat Ethic it is our goal that you have the best experience possible when shopping with us. We offer a 100% 30-day money back guarantee on all our products. If for any reason you don't enjoy the product, simply Contact Us and we will initiate a refund right away!