Total Prime
Testosterone & Strength Booster
---
Free shipping on orders over $75
100% 30 Day Money Back Guarantee
In stock, ready to ship

Inventory on the way
Total Prime is the most powerful strength boosting product in the sports series arsenal, featuring clinically studied ingredients Primavie®, D-Aspartic Acid, and Sensoril®. This combination of ingredients will boost performance and strength levels to new heights.
ACTIVE INGREDIENTS:
Primavie®: Clinically studied Purified Shilajit extract has been scientifically proven to increase free & total testosterone, boost strength, and increase recovery at the maximum dosage of 500mg per day.

Sensoril®: A powerful Ashwagandha that is derived from both the leafs and the root of the Withania somnifera plant. Clinically studies have shown that this ingredient can improve reaction time and boost focus.
D-Aspartic Acid: Natural amino acid that has been studied for its ability to support natural testosterone levels and endurance. 
Vitamin D3 & K2: Two powerful vitamins which have been shown to help support cardiovascular health, bone health, and immune system function. 
Take 3 Capsules by mouth daily.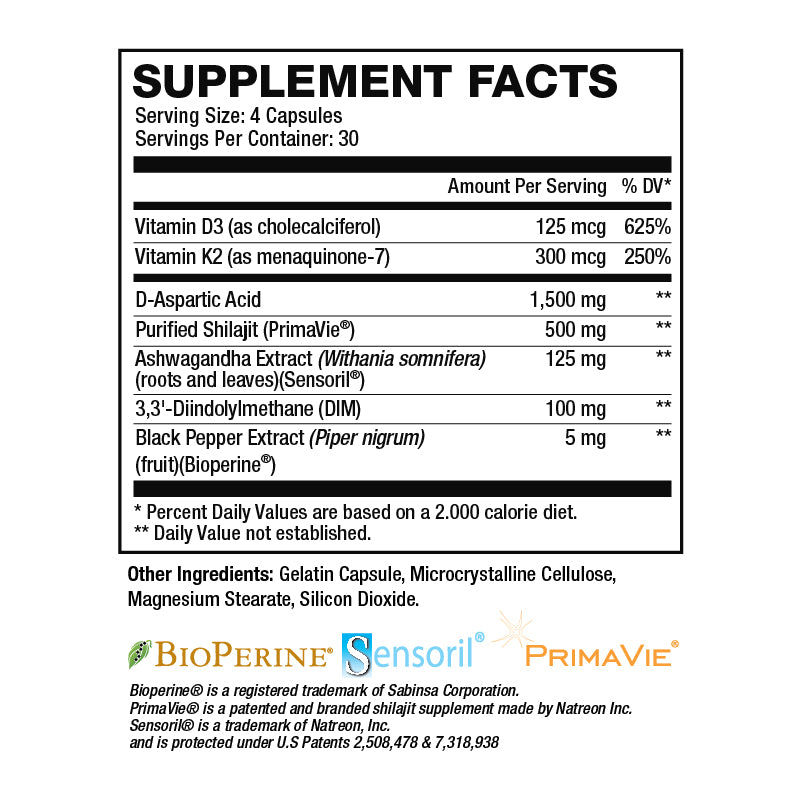 At Sweat Ethic it is our goal that you have the best experience possible when shopping with us. We offer a 100% 30-day money back guarantee on all our products. If for any reason you don't enjoy the product, simply Contact Us and we will initiate a refund right away!