TOTAL TEST
Testosterone Support
---
Free shipping on orders over $75
100% 30 Day Money Back Guarantee
In stock, ready to ship

Inventory on the way
Total Test combines herbal extracts alongside scientifically studied natural ingredients that have been shown to support testosterone levels. The perfect product for anyone looking to get back to their prime! Scientifically formulated to help support strength levels with the power of natural herbal extracts. Ideal for those starting to plateau at the gym and want a healthy testosterone option that does not require cycling.
ACTIVE INGREDIENTS:
Tribulus Terrestris: Natural ingredient that is widely studied for its health benefits associated with libido enhancement and cardiovascular health. Total Test features a precise ratio of different variations of saponin percentages for optimal performance. 
Saw Palmetto: Herbal extract which may help reduce the conversion of testosterone into DHT, one of the primary causes of hair loss. 
Horny Goat Weed: Herbal extract touted for its abilities to assist in libido support and hormone balance.
Take one (1) capsules three (3) times daily with 8oz cold water. For best results take 1 capsule with breakfast, lunch & dinner.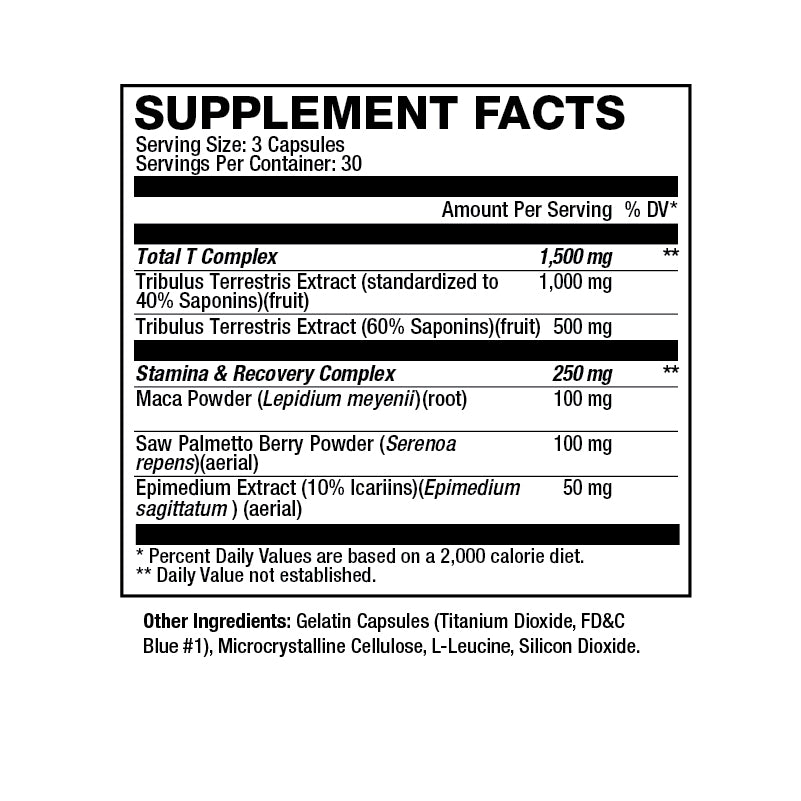 At Sweat Ethic it is our goal that you have the best experience possible when shopping with us. We offer a 100% 30-day money back guarantee on all our products. If for any reason you don't enjoy the product, simply Contact Us and we will initiate a refund right away!