CREATE'D
Creatine & Adaptogens
---
Free shipping on orders over $75
100% 30 Day Money Back Guarantee
In stock, ready to ship

Inventory on the way
CREATE'D fuses the power of Creatine alongside powerful adaptogens and PEAK02® to give you far greater results than just creatine alone. Peak02® is a combination of clinically studied mushroom cordyceps that help improve oxygen utilization in the body while Rhodiola and Ginseng support improved stamina and cognitive function. It's time to throw away your generic creatine and get CREATE'D!†
ACTIVE INGREDIENTS:
Peak02®: An organic certified combination of six Ayurvedic mushrooms harvested in the U.S. These mushrooms are powerful adaptogens which allow your body to overcome physical and mental stress through delaying time to exhaustion and increasing maximum power output.

Creatine HCL: A creatine with an extremely high rate of absorption in the body which allows you to gain the powerful benefits of creatine with lower dosage amounts.
Rhodiola & Panax Ginseng: Herbal extracts which have been studied for their adaptogenic properties to help support improved stamina and cognitive function. 
Astragin®: An ingredient that has been shown in over 16 studies to increase absorption of peptides, amino acids, fatty acids, vitamins, and phytonutrients.
Take six (6) capsules spread out throughout the day. Take three (3) capsules every morning & three (3) capsules pre-training. On non training days take three (3) capsules in the morning & (3) capsules in the evening.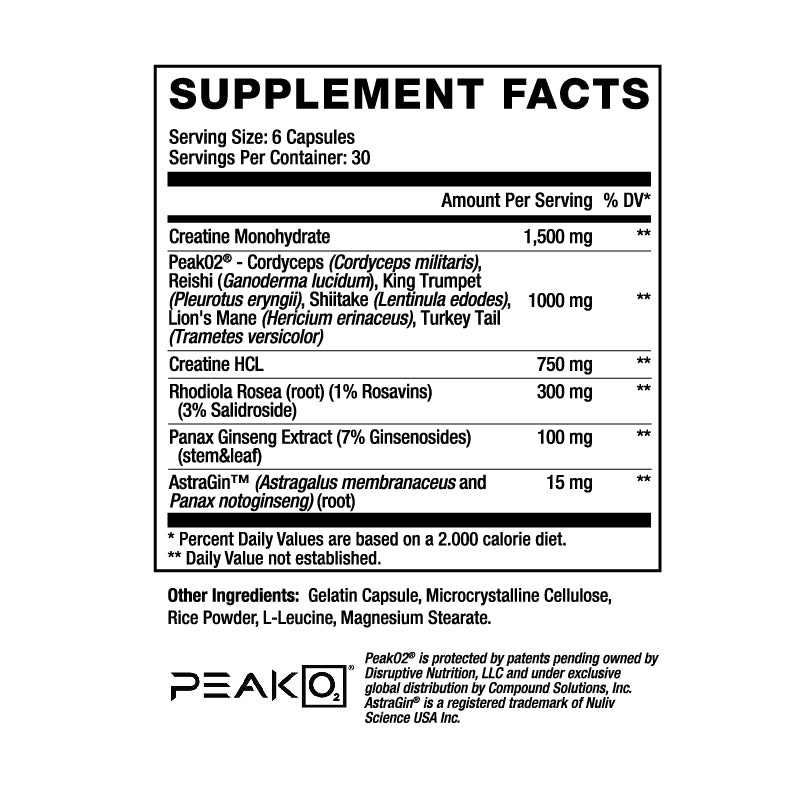 At Sweat Ethic it is our goal that you have the best experience possible when shopping with us. We offer a 100% 30-day money back guarantee on all our products. If for any reason you don't enjoy the product, simply Contact Us and we will initiate a refund right away!